Anyone who sells Long Term Care (LTC) Insurance has heard many reasons why people feel they don't need the insurance. "I expect to die in my sleep, like my father," or "We want to stay in our house and take care of each other", or the popular "I walk two miles every day and take very good care of myself". All of it is "code" for "I don't think I'll ever need Long Term Care." All of it is denial.
In my 15 yrs. of experience selling LTC Insurance, I've learned that denial is a powerful psychological device that enables intelligent people to risk losing everything they have worked for - rather than admit their own vulnerability.
As professional agents, it's our job to help our clients clearly see the importance of transferring their risk of Long Term Care to an insurance company. When our clients buy LTC insurance, they preserve their family's assets for themselves and for future generations. Clearly, this insurance should be the cornerstone of any financial plan for retirees and pre-retirees.
But how can we effectively combat the denial we frequently encounter? Should we use statistics or deductive reasoning to argue our case and hope to triumph? Such arguments are generally useless, and the denial continues to control the decision making outcome, frustrating the client as well as the agent.
The solution that has worked so well for me and for may who have attended my workshops, relies on selling the need rather than the product. I use a graphic device that I have dubbed "The Health Care Pie" to help my prospects see and feel the need for Long Term CAre Insurance. The graphic (see figure 1) is both simple and compelling, while the content is highly persuasive. Best of all - there is nothing confrontational to impede the sale. People keep their denial mechanism intact and still purchase the LTC Insurance (In case something unexpected does happen!).
Here's how it works: I explain that the Health CAre Pie represents all 3 areas of financial concern, namely, hospital inpatient expenses (section "A"), outpatient expenses for doctors visits, surgery, and diagnostic tests (section"B") and convalescent care costs (section "C"). I then shade in section "A" with a marker or pen explaining that their present insurance (major medical, medicare and supplement or HMO) covers virtually all of these expenses. Next I shade in section "B", explaining that their present insurance also covers most or all these expenses. When I get to section "C", I divide that into three equal sections using dashed lines that extend well beyond the circle. I label these respectively, "Nursing Home", "Assisted Living" and "Home Health Care" expenses. I ask if they know what their present insurance covers in these areas. Whether they do or they don't, I proceed to shade in a minor amount of Nursing Home, and a small amount of Home Health Care. I don't shade in any Assisted Living. The resulting graphic is now a complete visual representation of their present coverage.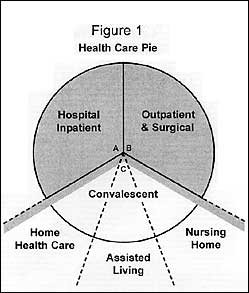 What make my "Health Care Pie" such a powerful way to help people feel the need for LTC Insurance?
Simply put, it focuses my client on the large gap in their coverage (the part not shaded in), rather than whether they think they will need care someday. In other words, they can plainly see that they need to buy coverage to prevent a financial disaster if the unexpected happens. By the way, it has been my experience that drawing the circle and filling it in with each client is far more effective than pre-printing the graphic.
The next step in helping my clients feel the need to purchase is to ask a few pointed questions. For example, "Do you feel that your present insurance is comprehensive enough to protect your savings and your home?", and "Were you hoping to someday pass down your assets to your children and grandchildren?" or maybe, "If one of you unexpectedly needed care and used up most of your savings, would the surviving spouse want to move in with your children to make ends meet? I'm sure you could add a few of your own favorites to my suggestions here, focusing on the great financial risk involved in having such a large gap in your Health Care Coverage.
The combination of using the "Health Care Pie" with several pointed questions really sells the need. Now, all I have to do is ask, "Would you like to see an affordable plan that would take care of this problem?" If someone answers "no", they are not a prospect for LTC Insurance. But, as you can imagine, the answer is usually, "yes!".
Now I choose a product that suits their situation, based on their ages and health history, I have already sold them on the need to purchase coverage. That's the driving force that makes the sale happen. Whether they select one product or another, or raise or lower benefits, I'm simply accommodating their specific desires. The sale is actually made when my clients feel the need strongly enough to commit themselves to purchasing LTC Insurance. The rest of it is a matter of details.
I have enjoyed a high volume of LTC Insurance sales for many years, always focusing on selling the need first then adjusting the plan benefits. The reason my method works so well is simple. People will avoid or put off purchasing insurance until they truly feel the need to have the coverage. They aren't willing to pay anything for coverage they don't feel they need. But they will pay a thousand or two thousand dollars a year, or significantly more, for coverage that they know they need to protect their loved ones from financial ruin.
Rick DiLaurenzo, ChFC, is a nationally recognized specialist in long term care insurance sales. He has personally produced a consistently strong volume of LTC insurance sales for over 16 years. More than a dozen of his highly acclaimed articles have appeared in various industry publications. Always a popular speaker, Mr. DiLaurenzo has taught a number of LTC workshops and seminars for a variety of prestigious organizations, including: The Long Term Care Forum, and the American Association for Long Term Care Insurance (where he is a member of the Advisory Board). He has also made numerous presentations at LTC sales conventions, Mr. DiLaurenzo has written and teaches a course on LTC insurance for C.E. credits.
Mr. DiLaurenzo is the president of Insurance Marketing, Inc (IMI), P.O. Box 1002, Montgomeryville, Pa 18936-1002. IMI is a well respected Long Term Care Brokerage and National Marketing Organization representing over 20 LTC insurance companies. IMI provides licensing appointments, quotations, spreadsheet comparisons, and underwriting advice for thousands of independent agents and agencies across America. IMI also provides LTC product design and marketing advice to insurance companies.
Reprinted from Agent Sales Journal, August, 2000.
Contact us today and join our team as an independent long term care insurance agent or long term care insurance broker. We are the long term care insurance specialists that can help you increase your long term care insurance sales!